Description
The AMI Diploma course is an intensive full time programme designed to help students study closely the theory and practice of the Montessori approach to education. The modular course will be delivered over 15 weeks in 6 modules and will help prepare students for working with children from 0 to 3 years of age.  Between the modules students will be required to complete 250 hours of observation of children from 0-3 years at home and in community settings. Each student will also be required to complete a week of student teaching with children under three. During this week the student is evaluated by a course staff member.
Theory Lectures
The theory lectures will offer the students the opportunity to study in depth the Montessori principles and practices with special consideration being given to the child from birth to three years. Students will receive lectures on:
Montessori Pedagogy
Medical (Obstetrics / Hygiene / Nutrition)
Child Neuropsychiatry
Language and Movement Development
How to Prepare : Home Environment , Nido Environment and Community Environment)
Demonstration Lectures
The practical demonstration lectures deal with the care of the Infant in the Home and Community Settings. The preparation of the home, the furniture, the clothing and the developmental materials offered to children from 0 to 3 years of age in a Montessori environment will be presented. The principles on which the materials are based, the technique of presenting them to the child, the age at which they must be offered and the changes that need to be effected as the child grows will also be explored in detail.
Supervised Practice
During scheduled hours students will have an opportunity to practice with the materials and work on preparing child development timelinesStudents will be supervised and guided in the preparation and use of the materials and encouraged to develop and practice the techniques by which they will present the various materials to children.
Care of the Environment
Students will also be asked to take responsibility for the environment everyday just as they would when they are with children. This is an essential aspect of the training that develops the students' eye for the care and maintenance of the material and helps them to develop a familiarity with the set up of a Montessori environment.
Observation 
Students will have to arrange and undertake 250 hours of observation of children less than three years between the modules
Teaching Practice
Students  will need to undertake teaching practice in a Nido or an Infant Community for one week. During this time they will be shown how to keep a record of observations and as well as have an opportunity to work directly with children under the supervision of an AMI trained adult. Students will need to budget for their commute.
Albums
Students will need to submit a wide range of assignments at regular intervals during the course and between modules. Students will be required to write theory assignments and observation reports and prepare Reference Albums, timelines of child development Students will need to do four to six hours of organised work at home every day in order to complete all assignments.
Handmade Materials
Students will be making several handmade materials suitable for the development of children less than three years. Students are required to budget an additional expense towards the same.
Email and Internet Access
Students will need access to Email and internet as information will be sent to them regularly by email. Some assignments will need to be submitted electronically.
Language
All lectures will be in English. Course work will need to be presented in English both orally and in writing. It will be necessary for students to take comprehensive lecture notes and write original essays and prepare assignments based on course information. Students will also be required to explain theoretical principles during the Oral examination.
Attendance
Students must have 90% attendance for each aspect of the course including time taken off due to illness. Attendance records will be meticulously maintained throughout the year. In case of absence, students should notify the Director of Training in writing, at least one day in advance. In case of illness the student should inform the training centre by phone or email immediately.
Examination
The students' eligibility for appearing for the Examination will depend on the following:
90% attendance for each aspect of the course
Punctual completion and submission of all assignments called for in the course of the year
Full payment of the fees
Completion of required hours of School Teaching Practice
Completion of required hours of Observations
Completion of required hours of Supervised Practice
There will be two written examinations. Paper A will be on psychology and theory. Paper B will be on the practical aspects with the underpinning principles. There will also be an oral examination in which students will be asked to present the use of the material and explain the underlying theory.
An external examiner will be appointed by AMI to conduct the examinations. The diploma is awarded by the Association Montessori Internationale after a successful written and oral examination and completion of all requirements for certification. The decision of the board of examiners will be final and binding. No appeals will be entertained after results are released.
Registered students who for valid reasons fail to appear for the examinations on the scheduled dates at the appointed time may be given the opportunity to appear at the examinations held the following year thereafter. They will have to apply for this opportunity in writing with a full and acceptable explanation. In case of medical grounds, a registered practitioner must attest the medical certificate. They will be charged the Examination Fee for the re-examination. Students appearing for re-examination in any of the parts can do so ONLY the following year.
Eligibility
Candidates fulfilling the following requirements will be considered eligible for admission into the course. The candidate should have:
Completed 20 years of age
A Bachelor's degree
A sound knowledge of English
Basic computer skills and email access
We welcome candidates from all walks of life and different professions. Occasionally we do consider applicants who do not have a Bachelor's degree based on their life experience.
Admission Procedure
Admissions are on a first come first served basis. 
Applications must be submitted with all enclosures. The Admissions Review Committee will process all complete applications. The decision of the committee will be final and binding.
Application
To be considered for admission you need to submit the following:
Application Form duly filled in and signed by the applicant with one photo affixed
Two additional photos identical to the one affixed on the application form
Attested OR Certified Copies of all educational documents
Letters of reference from current or previous employers
Application Fee
HANDWRITTEN essay (about 500 words) on An Overview of My Life
| Fees | Indian Nationals Rs. | Foreign Nationals US$ | Due |
| --- | --- | --- | --- |
| Application fee | 1650.00 | 87.00 | With Application |
* Service Tax  as applicable
Interview
An interview will be arranged after the application is received. For foreign nationals who are not able to attend an interview in Bangalore we can arrange a time when the applicant can call us for a telephone interview.  Students may be required to take an English check.
Admission Confirmation
Selected candidates will receive a letter of acceptance with a last date for the payment of fees. Once the fees are paid the candidate will receive a letter of confirmation along with the schedule for the first day.
Course Schedule and Timing
The course runs in 6 modules . Students will be asked to be extremely punctual. Latecomers will be marked absent for half the session.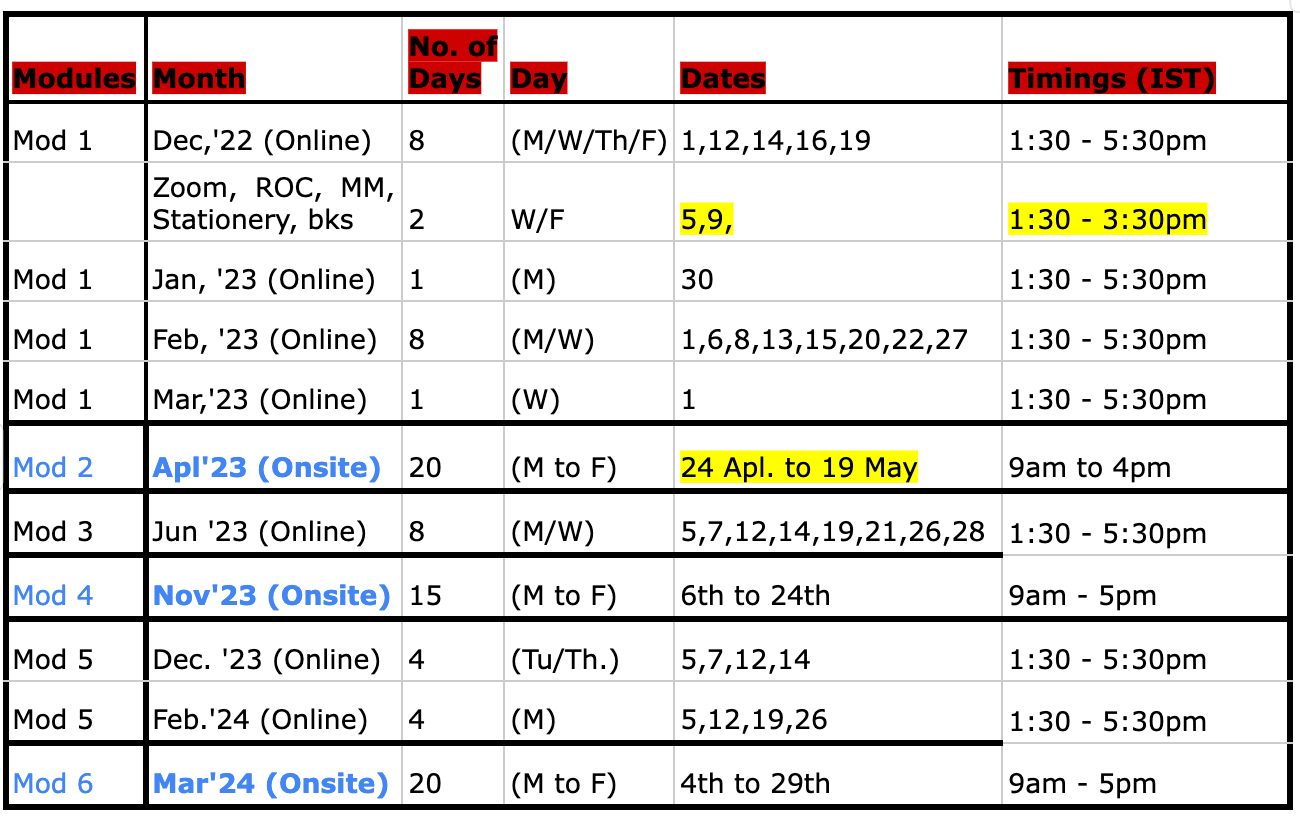 Diploma
The AMI diploma is awarded by the Association Montessori Internationale. It qualifies the holder to work with children in a Montessori environment between 0 and 3 years of age.  Diploma holders have great opportunities to find employment in India and abroad.  The diploma is recognised throughout the world.  Many diploma holders have started their own schools.
Fees
| Fees | Indian Nationals Rs. | Foreign National US$ | Due |
| --- | --- | --- | --- |
| Tuition | 121,593.00 | 5,206 .00 | Before course commences |
| Examination | 26,789.00 | 1,176 .00 | Before course commences |
| Special Fee | 16,871.00 | 756 .00 | Before course commences |
| * Service Tax | 29,747.00 | 1,285 .00 | Before course commences |
| Total | 195,000.00 | 8,397.00 | |
* Service Tax as applicable
Indian Nationals may pay the fees by means of Bank Transfer in favour of Montessori Institute of Bangalore. Foreign Nationals must pay the fees in US Dollars by means of Bank Transfer (preferably through TransferWise in INR equivalent to US dollars) in favour of Montessori Institute of Bangalore payable in Bangalore.
MIB Bank Details for bank transfer :
Account Name: Montessori Institute of Bangalore
Bank: Bank of Baroda
Branch: Gandhi Bazaar
Account Number: 89490200000692
IFSC code: BARB0VJGABZ (*there is a zero in between)
MICR 560012115
SWIFT CODE : BARBINBBBGL
Refund Policy
The fee is non-refundable. Once paid it cannot be refunded for any reason either prior to the commencement of or during the course on withdrawal of a student. Students will be required to submit a Refund Policy Acceptance letter at the time of payment of fee.
Faculty
Julia Hilson: AMI (0-3 Trainer)
Julia Hilson is an AMI-accredited Director of Training for the Assistants to Infancy (0-3).  She completed her AMI Children's House (3-6) Diploma in Hampstead in 1985. In the years following, she has established Centres and ran classes in the UK and Australia. She also completed her AMI (6-12) Diploma in Bergamo, her AMI (0-3) Diploma on the Gold Coast (Australia) – as well as attending the inaugural Educateurs sans Frontieres gathering at Citta De Castella in 1999. She holds a Bachelor of Early Childhood and a Masters Degree in Education and holds Teacher Registration credentials in Australia.
Following several visits to remote Indigenous communities she was asked by Montessori Children's Foundation to move with her family to Thursday Island (Far North Queensland) and establish a Montessori stream at Tagai State College in Torres Strait in 2009. This initiative has now grown to include 3 substantial Montessori Classes within the Tagai Primary School and  11 Parent/Toddler Groups on separate Islands throughout the Torres Strait.
As an AMI 0-3 Director of Training Julia has completed Diploma Courses in Australia, New Zealand, UK, Japan and South Africa. She has also completed Assistants Courses in Australia, New Zealand, UK, South Africa, The Gambia and Nigeria. In between Training Julia works as a Consultant in the Torres Strait Islands , Aboriginal Communities and Long Day Care settings in Australia.
Books and Stationery Budget
It is advisable for students to acquire the Montessori books in the Required Reading list.  The students will also have to acquire stationery for the course, for course submissions and the creation of Albums. Students using computers must budget additionally for printing cost, particularly colour printing. The cost will vary depending on the choices made. We would like to emphasise that this a budget and that it is only an approximate guide. The training course neither recommends nor endorses particular stationery products. Students are advised to budget for books and materials for the duration of the course as follows.
| Items | Budget | Likely to be spent |
| --- | --- | --- |
| Montessori Books | Rs.6000 | Before the course commences |
| Stationery | Rs.5000 | For the duration of the course |
| Materials | Rs.5000 | For the duration of the course |
| Printing | Rs.5000 | For the duration of the course |
Books and Reading
To prepare for the Diploma course and for working in a Montessori environment it is good practice to read around the subject. The following list of books is provided to help you begin this process.
Essential Reading
Montessori, Maria The Absorbent Mind  Indian Montessori FoundationMontessori, Maria The Child in the Family Indian Montessori Foundation
Montessori, Maria The 1946 Lectures Montessori-Pierson Publishing Company
Montanaro, Silvana UNDERSTANDING THE HUMAN BEING Nienhuis
Required Reading 
Montessori, Maria The Discovery of the Child  Montessori-Pierson Publishing Company
Montessori, Maria The Formation of Man Indian Montessori Foundation
Montessori, Maria Education for New World Indian Montessori Foundation
Montessori, Maria Montessori, Maria The Secret of Childhood Orient Blackswan, Chennai
Recommended Reading 
Elliot, Lise WHAT'S GOING ON IN THERE? 
Ericson, Eric CHILDHOOD AND SOCIETY 
Kaplan Louise ONENESS AND SEPARATENESS
Montague, Ashley TOUCHING  
Standing, E.M. Maria Montessori, Her Life and Work 
Daniel, Stern THE INTERPERSONAL WORLD OF THE INFANT
Montessori, Maria What You Should Know About Your Child  Indian Montessori Foundation
Montessori, Mario Jr., Education for Human Development  Montessori-Pierson Publishing Company
Application Form & Non-Refund Policy Acceptance Letter will be sent once you click on Apply Now.